X-Cart:Recently Viewed
X-Cart 4.4or above
What Recently Viewed module does
Recently Viewed is a module that allows you to promote products by telling your store's visitors what products they have recently viewed. When this module is enabled, a special section is displayed in the side menu of the Customer area, titled 'Recently Viewed', which includes several products that the customer has viewed last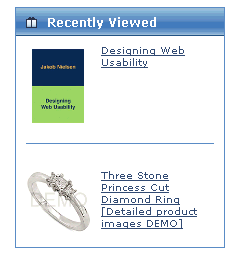 Enabling and Configuring 'Recently Viewed'
To begin using the module:
1. Enable Recently Viewed module (Settings menu->Modules).
When the module is enabled, you can see Recently Viewed section in General settings/Modules.
2. Adjust the module settings via General settings/Modules > Recently Viewed:


Number of products to show to customers: Specify the number of products recently viewed by a customer you want to include into the 'Recently Viewed' section.
Click Apply changes.