X-Cart:Recently Viewed
X-Cart 4.4or above
What Recently Viewed module does
Recently Viewed is a module that allows you to promote products by telling your store's visitors what products they have recently viewed. When this module is enabled, a special section is displayed in the side menu of the Customer area, titled 'Recently Viewed', which includes several products that the customer has viewed last: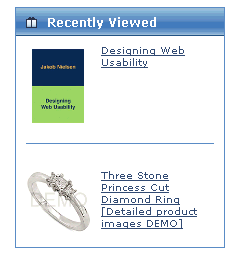 Recently Viewed is available as a built-in module for all X-Cart editions. Id does not require installation and can be enabled in the Modules section of X-Cart Admin area.
Enabling and Configuring 'Recently Viewed'
To begin using the module:
1. Enable Recently Viewed module (Settings menu->Modules).
When the module is enabled, you can see Recently Viewed section in General settings/Modules.
2. Adjust the module settings via General settings/Modules > Recently Viewed:


Number of products to show to customers: Specify the number of products recently viewed by a customer you want to include into the 'Recently Viewed' section.
Click Apply changes.