LiteCommerce:GreetVisitor
| | |
| --- | --- |
| | This article refers to LiteCommerce 2.x only. For user manual to LiteCommerce 3.x, please visit this website. |
LC version2.xonly
LiteCommerce Greet Visitor add-on module is created to enhance the personality of your site. It allows to greet all customers of your store by their names. When the Greet Visitor module is activated the customers who logged in recently will see this greeting message when they return to the site.
After you have activated the Greet Visitor add-on module, you can configure the way it will greet the customers returning to your site. Select the 'Template editor' section in the 'Look and Feel' menu. The first template in the list is now a 'Greet visitor message'. Modify the template if you need, using HTML tags and click 'Update templates' when you are done.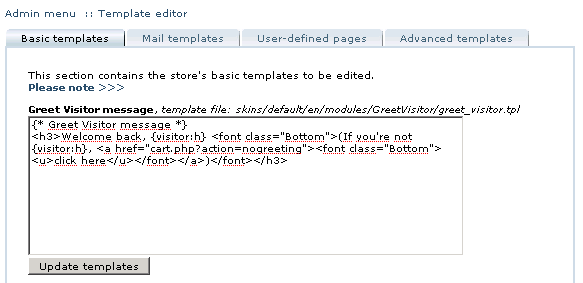 When a customer who logged in recently returns to your site, he sees a message, greeting him or her by name. There is also a link a customer can click to log out of the account if he has been identified incorrectly.


The Greet Visitor add-module recognizes customers by a cookie stored in the users' browsers for 180 days. If a customer deletes the cookies, the Greet Visitor module will be unable to recognize him.