X-Cart:News Management
What News Management module does
News Management module allows you to inform your customers about different kinds of news at your store (special offers, discounts, new products, etc):
you can create messages about your store news using the 'News management' section of the Admin area;
the messages appear in the 'News' section of the Customer area and/or get sent to those of your clients who are subscribed to your newsletter.
The module functions in such a way that any news message created with it is posted not independently, but as part of a news list. News lists are news categories that organize your news messages by topic. Setting up several news lists in one store provides more flexibility for your customers who subscribe to the store newsletter: they can subscribe not to all of your news, but just to the news lists in which they are interested.
'News' section
The 'News' section is a place in the Customer area which can display your latest news.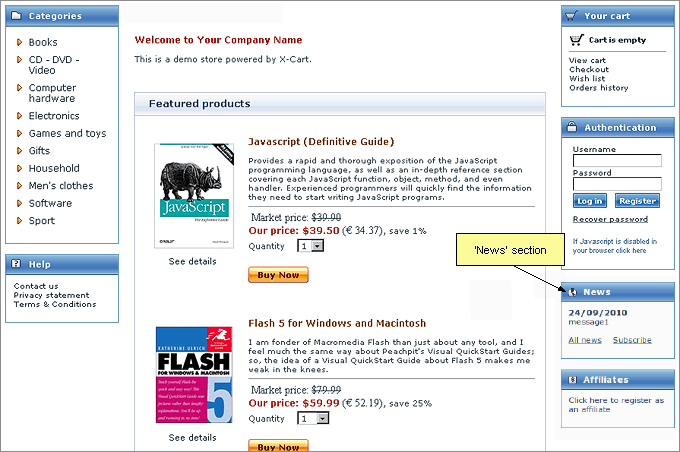 This section appears on the front end only when there is at least one news list which is active and needs to be shown as news.
Before you post any news messages, the 'News' section says 'No news available at the moment'. After you have added one or more news messages, the message added latest of all appears in the 'News' section. The news messages posted previously are available for viewing in the news archive (accessible by clicking the 'Previous news' link).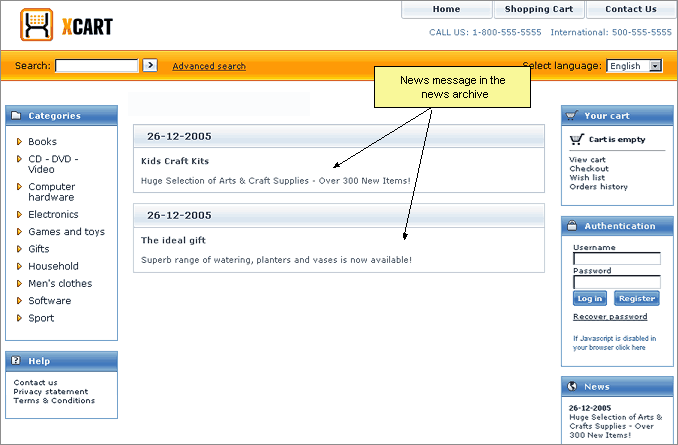 Newsletter
Newsletter is an information letter available to store users by subscription. In order to receive newsletter emails, a client needs to provide an email address and specify, which of the available news lists he or she would like to read. When you have news lists which are active and available for subscription, newsletter subscription is available to any visitors of your store site, no matter if they are registered or anonymous.
Anonymous visitors can subscribe by entering their email address into 'Your email' field in the 'News' section: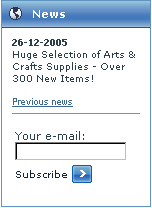 and select the news lists to which they would like to subscribe from the list in the 'Subscribe to newslists' form (This form is displayed as soon as an email address is entered in the 'News' section):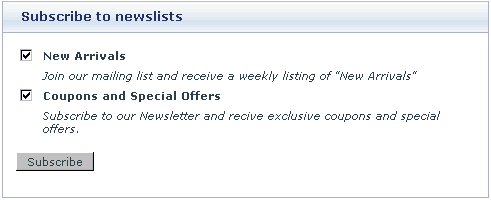 Note: The 'Subscribe to newslists' form can be protected by image verification. See
X-Cart:Image Verification
page for details.
Registered customers and new clients getting registered can subscribe to the newsletter using the 'Newsletter' section of the 'Profile details' form:
Note: The same form can be used by registered customers to change the set of news lists included into their newsletter subscription (to add more news lists or to unsubscribe from any news lists).
As soon as a client subscribes to a news list, his or her email address is automatically added to the mailing list for that news list so the client can begin getting the newsletter.
If you wish, you can enable notification emails to subscribers. Notification emails not only notify your new subscribers of the fact that their email address has been entered into a mailing list, but also provide a link allowing these subscribers to unsubscribe from newsletter emails.
An 'Unsubscribe' link is provided with each newsletter, so if any of your customers wish to discontinue their newsletter subscription, they will be able to do so at any time.
Roles in News Management module management
If you are an X-Cart GOLD administrator/provider or an X-Cart PRO administrator:
If you are an X-Cart PRO provider:
You cannot post any news on the store site or send newsletters by yourself.
Enabling and Configuring 'News Management'
News Lists
Mailing Lists
News List Messages